YL Nutmeg Essential Oil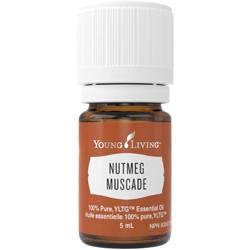 ---
Nutmeg has a warm, spicy aroma that is energizing and uplifting. Extracted from the fruit and seeds by steam distillation, the fragrance of Nutmeg oil is sharp with a slight musky note and has become popular in perfumery. Nutmeg has a long tradition of topical support for seasonal aches and pains, especially when combined with massage or a hot bath. Aromatically, this oil stirs the senses and helps to relax the body and mind. Nutmeg blends well with other oils such as Orange, Clary Sage, any Eucalyptus, and Ginger.
In Aromatherapy can be used topically or inhaled:
to act as a nervine and calmative which enhances relaxation.
to help relieve joint or muscle pain associated with sprains and strains.
when experiencing digestive discomfort can act as a carminative and antispasmodic.
How to Use
Topical: Dilute 1 drop with 1 drop of olive oil and apply to desired area as needed. Aromatic: diffuse up to 30 minutes 3 times daily. Caution: Keep out of reach of children. For external use only. Keep away from eyes and mucous membranes. If you are pregnant, nursing, taking medication, or have a medical condition, consult a health professional prior to use.
Ingredients
Myristica fragrans† (Nutmeg) kernel oil
† 100% pure, therapeutic-grade essential oil
---
More from this collection