Drysol Liquid - Extra Strength 20%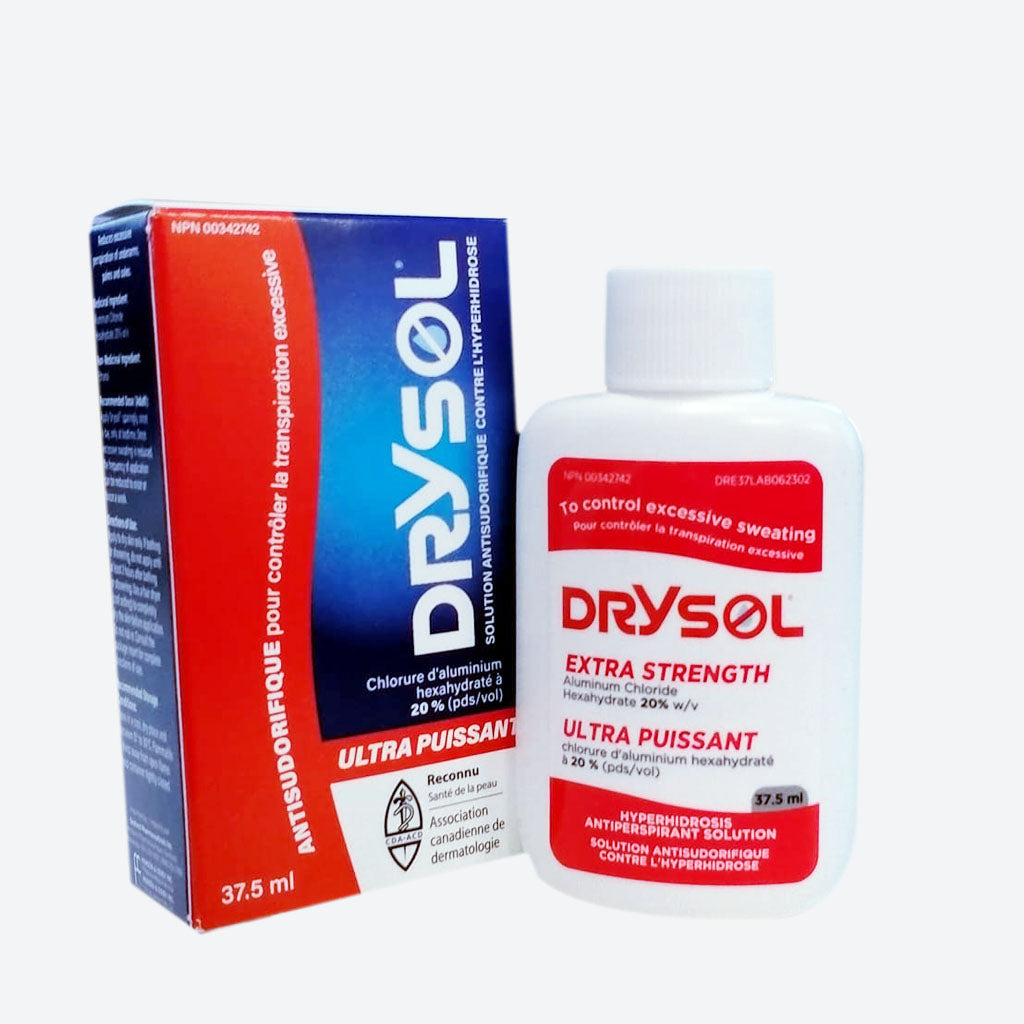 ---

Drysol Solution Extra Strength Anti-Perspirant 20% (37.5 ml)
DESCRIPTION:
Drysol™, with its unique formula, is one of the most effective topical anti-perspirant for excessive sweating that contains a special ingredient: Aluminum Chloride Hexahydrate ACH, with a 98% proven efficacy in controlling sweat and a 30% reduction in sweat volume.
Drysol™, ACH, is a clinically proven first-line therapy in Hyperhidrosis and Excessive sweating and is one of the best antiperspirants for excessive sweating.
The better result with a reasonable cost: Drysol™, is one the most economical clinical strength antiperspirant in the market today. You only need to apply once a day at bedtime (After 3 days, if your sweat stopped, you could reduce the application to once/twice a week). One bottle can last up to 4 months!
Drysol™, has Canadian Dermatology Associations' (CDA) Skin Health Program approval.
Best antiperspirant for hyperhidrosis: Excessive sweating can affect many parts of the body with various types of sweat. Drysol™ offers 5 different strengths, Dab-on and solution forms for various affected areas such as the underarms, sweaty hands, forehead, soles of feet, skin folds, and sweating in groin area and inner thighs. Please review the product descriptions to see what best matches your needs.
Drysol™ Extra Strength is ideal for toughest cases, for use on arms, feet, and hands.
For more information about the product, please contact your healthcare provider.
DIRECTIONS:
Dry the skin thoroughly before applying Drysol™ (please wait at least 2 hours after bathing before using Drysol™)
Apply once a day at bedtime. (After 3 days, if your sweat stopped, you could reduce application to once/twice a week)
If using Drysol™ Solution, moisten a cotton ball or apply with fingers, do not rub in
If using Drysol™ Dab On, apply to the affected area using the Dab On applicator, do not rub in
Do not apply to broken, irritated, or recently shaved/waxed skin
Wash the treated area with soap and water the following day. Drysol™ may be harmful to certain metals and fabrics.
INGREDIENTS: 20% Aluminum Chloride Hexahydrate in Anhydrous Ethyl Alcohol
---
More from this collection