Adored Beast Chaga Mushrooms | Liquid Triple Extract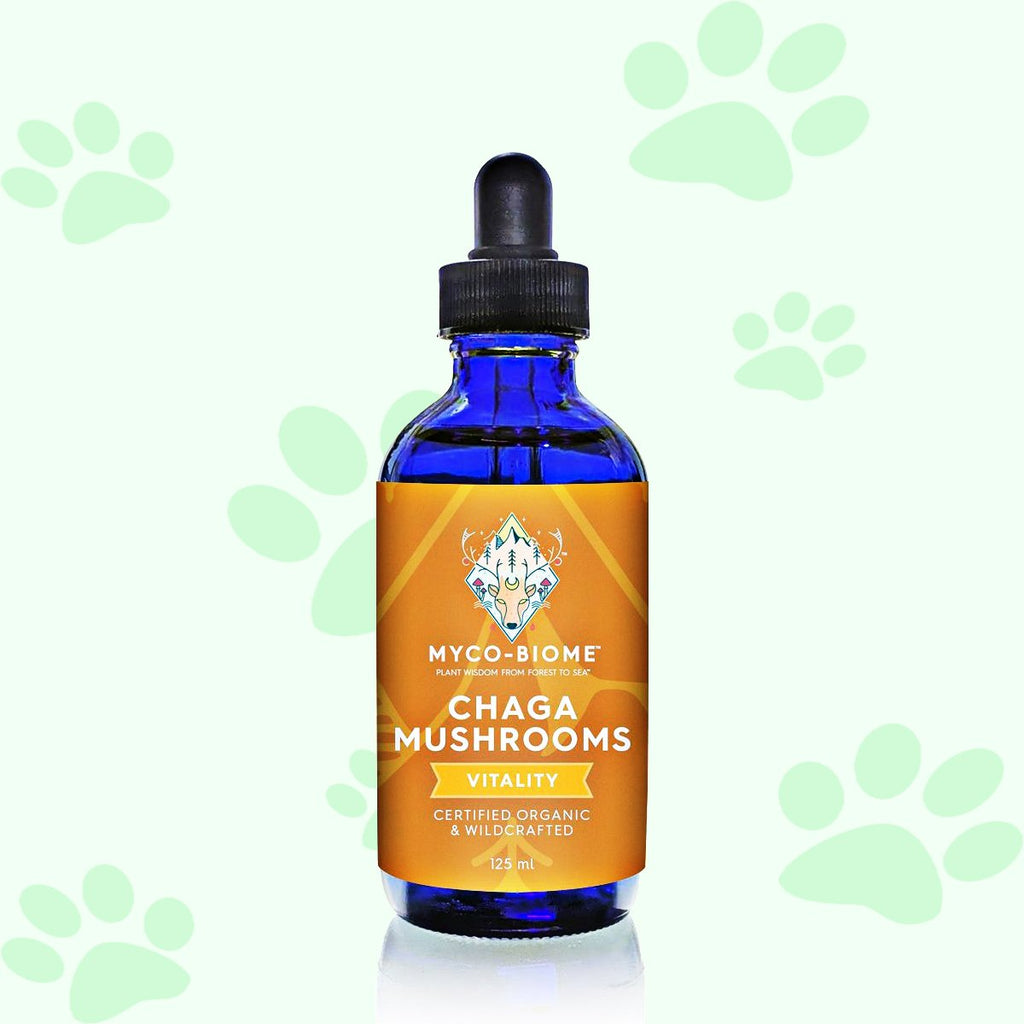 ---
Chaga Mushrooms | Liquid Triple Extract
Organic, North American Grown
BENEFITS
Nutrient-dense superfood†
Slow the aging process†
Help lower cholesterol†
Help prevent and fight cancer†
Support the immune system†
Manage inflammation†
Help fight oxidative stress†
---
INSTRUCTIONS
Squirt the full recommended amount once a day into your pet's mouth or add to food.

1 drop = 10mg
For animals diagnosed with cancer or chronic disease please consult your trusted veterinarian for guidance on increasing recommended dosages.
All Dogs and Cats
1 drop for every 1 lb of body weight daily
CAUTION: Safe use in pregnant animals or animals intended for breeding has not been proven. If animal's condition worsens or does not improve, discontinue use and consult your veterinarian.
WARNING: For animal use only. Keep out of reach of children. Not intended to replace veterinary advice.
Additional Notes
Store your tincture in a cool, dark place, away from direct sunlight.
---
HOW LONG WILL IT LAST?
Each bottle contains approximately 1500 drops.

Animal's Weight
15 lbs
15 Drops Daily
100 day supply
Cost Per Day
$0.69
Animal's Weight
30 lbs
30 Drops Daily
50 day supply
Cost Per Day
$1.39
Animal's Weight
60 lbs
60 Drops Daily
25 day supply
Cost Per Day
$2.79
Animal's Weight
90 lbs
90 Drops Daily
16 day supply
Cost Per Day
$4.37
Animal's Weight
125 lbs
125 Drops Daily
10 day supply
Cost Per Day
$6.99
---
INGREDIENTS
Certified Organic Chaga Mushrooms
Known as the "King of Medicinal Mushrooms," chaga is the second most antioxidant-rich food in the world next to cocoa. A nutrient-dense superfood, the chaga mushroom grows on birch trees throughout the northern hemisphere. It resembles a dark clump of dirt more than a mushroom, but is distinguished from other growths by its orange tissue. Chaga has been used in traditional Chinese medicine for centuries, and today, doctors, alternative medicine advocates, and researchers are increasingly interested in its many health benefits.
Full list of ingredients
Distilled water
Organic glycerin
Triple Extracted Organic and Ethically Wildcrafted Chaga Mushrooms
---
PRODUCT IMAGES
| | |
| --- | --- |
| × | × |
| × | × |
---
FREQUENTLY ASKED QUESTIONS
Julie Anne Lee, DCH RCSHom

Adored Beast Apothecary's founder, homeopath Julie Anne Lee, is here to answer your questions.
Her life's work is to help all animals live healthier, happier, longer lives.
Where do you source your mushrooms?
All of our mushrooms are grown in our private forest, located in Maritime Canada, or freshly foraged in British Columbia, Canada.
What's the shelf life of this tincture?
4 years. Do your best to store your tincture in a cool, dark place, away from direct sunlight.
Is there research to support the benefits of chaga mushrooms?
Yes, research has shown that chaga mushrooms can improve health, to read through those studies, click
here
.
Why is it a tincture instead of a powder?
For a mushroom's medicinal values to be activated and bioavailable, they need to be extracted. Liquid extracts are able to hold and preserve the many bioactive compounds that are released during extraction. Liquid extractions are also easier to absorb than powder, as the body doesn't need to digest anything, and therefore the medicinal properties of the mushroom can be absorbed right into the body. We break down our mushrooms using a three-step (triple extraction) process, the first with hot water, the second with organic alcohol (which is the only way of extracting triterpenes), and the third with glycerin. Once the extraction process is complete, there is 0% alcohol left, and each batch is tested to ensure this level.
---
---
More from this collection