Vitamin C Injection - 250 mg/ml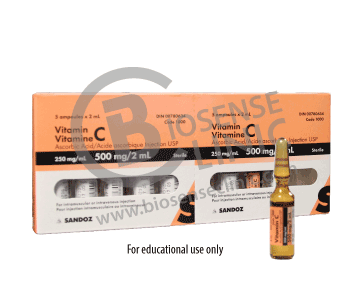 ---
Vitamin C Injection is important for healthy bones, tissues, veins and help in the production of red blood cells.
Vitamin C is a nutrient found in food and dietary supplements. It is an antioxidant and also plays a key role in making collagen. When taken by the injection routes, vitamin C can reach much higher levels in the blood than when the same amount is taken by mouth.
Each mL of sterile solution contains: ascorbic acid equivalent to sodium ascorbate 250 mg, sodium metabisulfite 0.15%, and sodium hydroxide to adjust the pH and water for injection
Caution: Pressure may develop on long storage. Open Carefully.

Storage: 15 – 30°C. Protect from light.
---
More from this collection