Adored Beast Raw Hemp Oil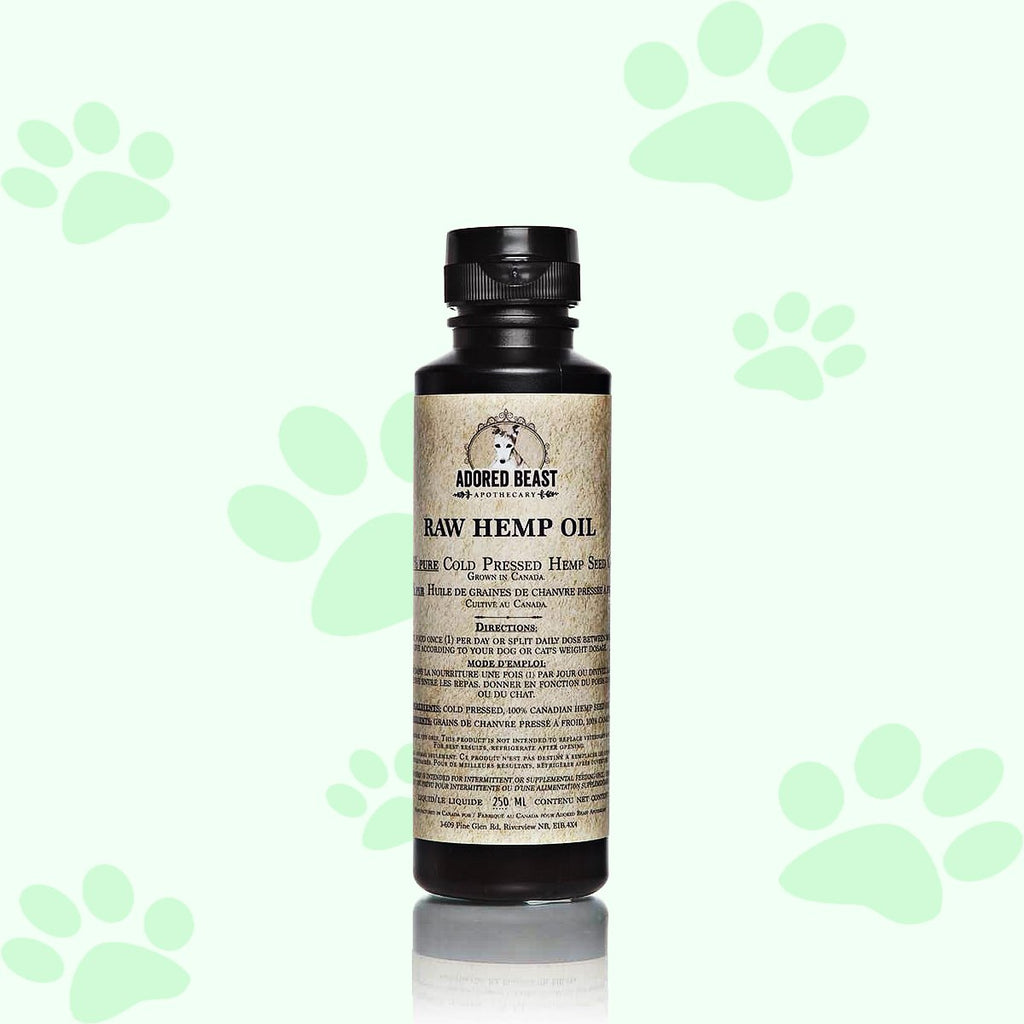 ---
Raw Hemp Oil
"The hemp oil has been an amazing addition to our dog's diet. The difference it has made in his arthritic pain has been remarkable."
– Karen A, Raw Hemp Oil customer
---
INSTRUCTIONS
Add to food once (1) per day or split daily dose between meals. Give according to your dog or cat's weight dosage.

ANIMAL
WEIGHT

DAILY
SERVING

1 – 5 LBS

1/4 TSP

6 – 15 LBS

1/2 TSP

16 – 39 LBS

1 TSP

40 - 59 LBS

1 1/4 TSP

60 - 89 LBS

1 3/4 TSP

90+

2 - 3 TSP

Safe use in pregnant animals or animals intended for breeding has not been proven. If animal's condition worsens or does not improve, discontinue use and consult your veterinarian.

Additional Notes
Refrigerate after opening
---
INGREDIENTS
Raw Hemp Seed
Raw hemp seed is a highly beneficial source of essential fatty acids as it offers the correct balance of Omega 3 and 6. It offers the perfect ratio of EFAs, contains Vitamins D, E, A and cholesterol-fighting phytosterols. It is also one of nature's richest sources of magnesium, and the creation of hemp oil does not threaten our oceans and is environmentally stable!
Full list of ingredients
Cold Pressed, 100% Canadian Hemp Seed Oil
---
PRODUCT IMAGES
| | |
| --- | --- |
| × | × |
| × | × |
---
FREQUENTLY ASKED QUESTIONS
Julie Anne Lee, DCH RCSHom

Adored Beast Apothecary's founder, homeopath Julie Anne Lee, is here to answer your questions.
Her life's work is to help all animals live healthier, happier, longer lives.
Why hemp oil for dogs vs fish oil?
Fish oil is processed, which results in heat and can lead to the oil itself becoming rancid long before it makes its way to your animal's food bowl. Rancid oils will be inflammatory instead of fulfilling their intended purpose of reducing inflammation.

We believe strongly in sustainability. Anything that is taken from our oceans is removing a food source for those animals that live in the ocean and therefore harming the food chain.

Another factor is the toxicity of the oceans. Feeding fish from the sea can mean heavy metals and contaminants going into your pet!
When shouldn't I use hemp oil?
If you are feeding a diet comprised solely of chicken (which would be unlikely!) then hemp oil is not the best choice for an oil.
How do I store it?
Once opened, store your Heightened Hemp in the fridge.
---
---
More from this collection