VitaAid Melatonin-3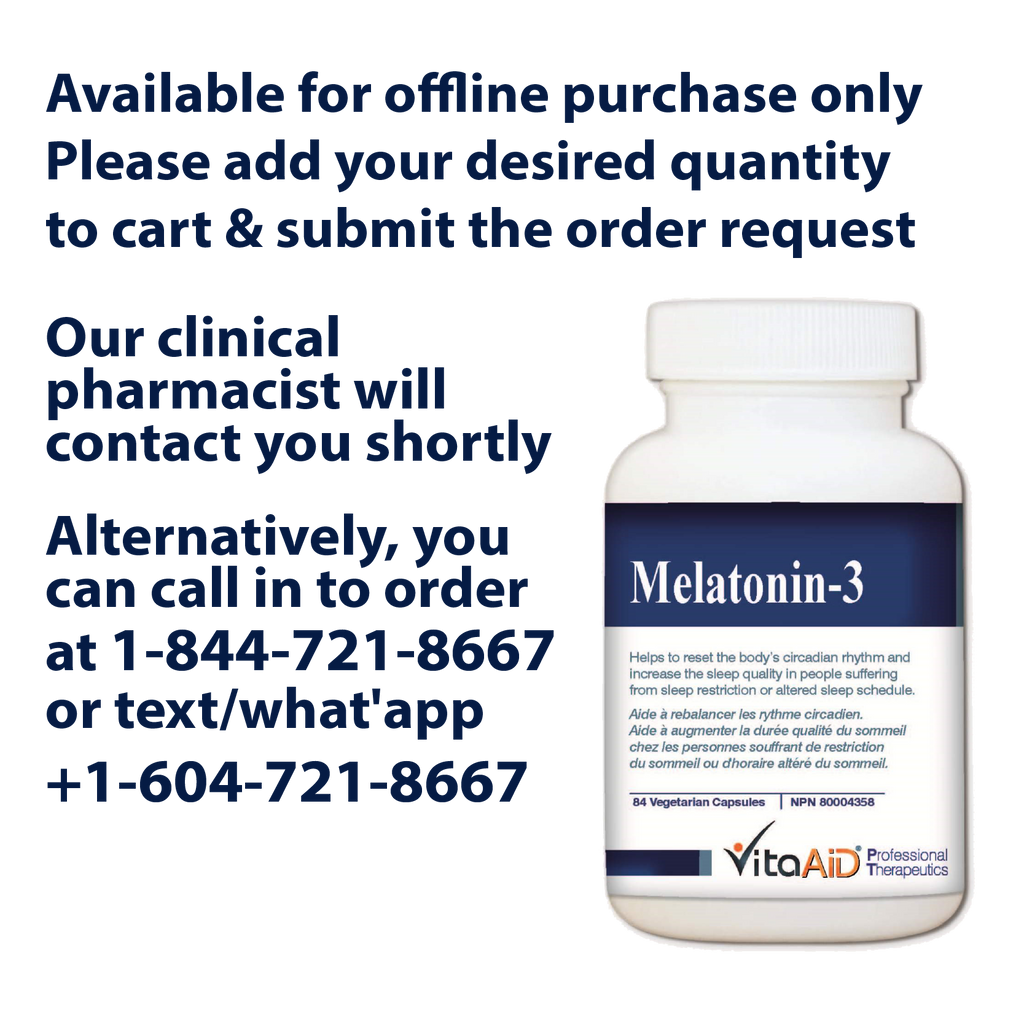 ---
Recommended use or purpose:
Helps to increase the total sleep time in people suffering from sleep restriction or altered sleep schedule, and reduce the time it takes to fall asleep in people with delayed sleep phase syndrome. Also helps to relieve the daytime fatigue associated with jet lag and re-set the body's sleep-wake cycle.
Suggested Use:
Adults - Take 1 to 3 capsules at bedtime, or as directed by a health care practitioner.
Caution:
Consumption with alcohol, other medications or natural health products with sedative properties is not recommended. Consult a health care practitioner prior to use if you are taking one of the following medications: anticoagulant, anticonvulsant, blood pressure medications, immunosuppressive medications, sedative, hypnotic or psychotropic medications, or steroids; or if you have one of the following conditions: asthma, cardiovascular disease, chronic kidney disease, depression, diabetes or hypoglycemia, hormonal disorder, immune system disease, liver disease, migraine, or seizure disorders. If symptoms persist continuously for more than 4 weeks, consult your health care practitioner. If you are pregnant or breastfeeding, do not use this product. Mild gastrointestinal symptoms (nausea, vomiting, or cramping) and rare allergic reactions have been known to occur in which case, discontinue use.
Supplement facts:
Ingredients (per capsule):
Melatonin (USP-grade) (vegetarian source).....3 mg
Non-medicinal Ingredients:
Microcrystalline cellulose, silicon dioxide, pullulan/hypromellose (capsule)
---
*VitaAid is offered available through professional clinician only.
*These statements have not been evaluated by the Food and Drug Administration. This product is not in tended to diagnose, treat, cure, or prevent any disease. Vita Aid Professional Therapeutics products are exlusively available for licensed healthcare practitionersto ensure the proper use of high-quality nutrition supplements.
Some formulas may be slightly different outside Canada and the US.
---
More from this collection