Replens Long-Lasting Vaginal Moisturizer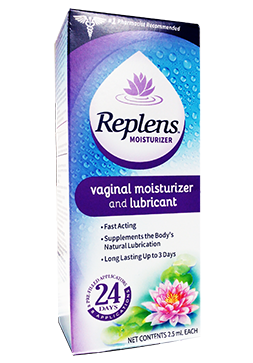 ---
Helps replenish vaginal moisture up to 3 days
Replens Long-Lasting Vaginal Moisturizer provides immediate alleviation of dryness symptoms and helps replenish vaginal moisture. Simply apply Replens a couple times a week to help alleviate the feminine discomfort associated with vaginal dryness.
Replens is different from other lotions or lubricants because it contains a patented bio-adhesive ingredient that allows it to attach to dry cells and deliver continuous moisture. Replens leaves vaginal tissues hydrated and feeling rejuvenated.
Lasts up to 3 days
Fragrance free
Compatible with most condoms (natural rubber latex, polyisoprene, and polyurethane)
Replens is the clinically tested, doctor recommended, and most trusted brand of long-lasting vaginal moisturizer. Apply Replens as needed to supplement your body's natural lubrication. As with dry skin that you experience on your face and hands, regular moisturizing treatment with Replens may be necessary to prevent dryness from recurring.
---
More from this collection