Ilike Cleansing Milk - Sour Cherry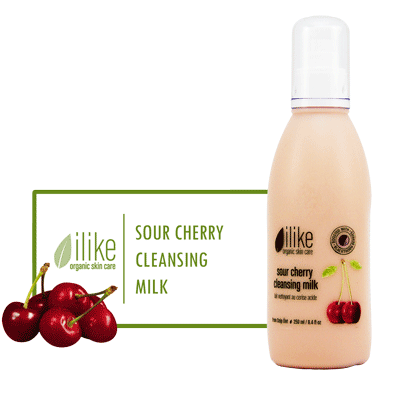 ---
certified organic with no parabens or other synthetics
harvested and processed by hand to ensure delicate plant structure not damaged
cold processed fruits, vegetables and herbs converted into pulps not extracts! to retain the full concentration and power of the herbs
the original made in Hungary for over 50 years
A delicate blend of deliciously fragrant, antioxidant-rich sour cherries and vitamin- and micro nutrient-rich blackthorn berries that gently remove dirt and impurities. This cleanser doubles as makeup and eye makeup remover.
Skin Types / Skin Conditions:
normal/combination skin
open pored premature, mature skin
dehydrated skin
loose skin
pale, tired, fatigued skin
Effects:
removes makeup and impurities (including eye makeup)
hydrates
skin feels softened
purifies skin by removing dirt
Directions for application:
Apply a small amount of cleanser over entire face and neck area and massage it in gently for 30-60 seconds moving your fingertips in circular motions, then wipe off with damp face towel or cotton pad. Use it twice a day as the first step of your skin care regime, followed by a refreshing toner.
Ingredients:
Sour Cherry, Corn Germ Oil, Blackthorn -- Vitamins A, B, C and E, Polyphenols, Amygdalin, Kaempferol Bioflavonoids, Anthocyanins, Biosugars, Pectins, Tannins, Fruit Acids, Mineral Salts, Trace Elements
---
More from this collection